Tips to Save You a Trip to Your RV Dealership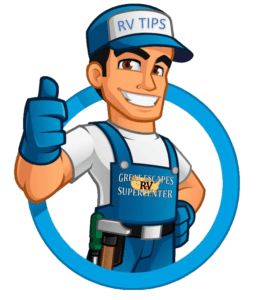 Check out these awesome videos to help troubleshoot any of your RV problems before you decide to take it out to get repaired!
ELECTRONIC LEVELING QUICK TIPS – SETTING ZERO:
Learn how to set zero point on your auto leveling jacks.
ELECTRONIC AWNING TIPS – PITCH YOUR AWNING BASICS:
Learn how your awning works and tips for maximum functionality.
RV QUICK TIPS – PREP FOR TRAVEL:
RV quick tips for prepping for travel , SLIDE OUTS, CABINETS, DRAWERS.
PROPANE REGULATOR DIRECTION:
Learn about your propane regulator and the direction it should point.
BASIC BREAKER PANEL TROUBLESHOOTING:
RV basic troubleshooting for your breaker/fuse panel.
BATTERY DISCONNECT FOR LEVELING:
Remember your battery disconnect direction when leveling your RV.
RV OUTLET NOT WORKING? TRY THIS FIRST!
This could be a quick solution for a non working outlet in your RV.
NO CHANNELS IN YOUR RV? TRY THIS FIRST!
If you don't have channels in your RV watch this video.
NEW DOMETIC THERMOSTAT BUTTON ISSUES?
Treat your dometic thermostat like a touch screen.
YOUR RV SAFETY FEATURES – QUICK TIPS:
Important safety features in your RV and routine maintenance on them.
IS YOUR DOMETIC THERMOSTAT STUCK IN CELSIUS?
Learn how to get your thermostat out of Celsius and back to Fahrenheit.
EXTEND THE LIFE OF YOUR RV WATER HEATER:
Learn about anode rods and how they protect your hot water heater.
GROUND CONTROL 3.0 – REHOMING YOUR LEVELING JACKS:
Sometimes your auto leveling jacks run into errors. Learn how to fix it.
HOW OLD ARE MY RV TIRES? – WHEN YOU SHOULD REPLACE YOUR TIRES:
Maintenance tips for RV tires on age and when they should be replaced.
NO HOT WATER IN YOUR RV? – SUBURBAN WATER HEATER HIDDEN SWITCH LOCATION:
If you don't have hot water in your RV it could be this HIDDEN switch.
DO THIS BEFORE TRAVELING IN YOUR RV! – WALK AROUND INSPECTION:
The up, down and all around inspection of your RV before traveling.
OneControl Activation for Bluetooth System
Jaycommand BMPro Sleep Mode Bypass
50 AMP POWER CORD REEL REPLACEMENT